Shop Sample: Vine Street Vest - Completed!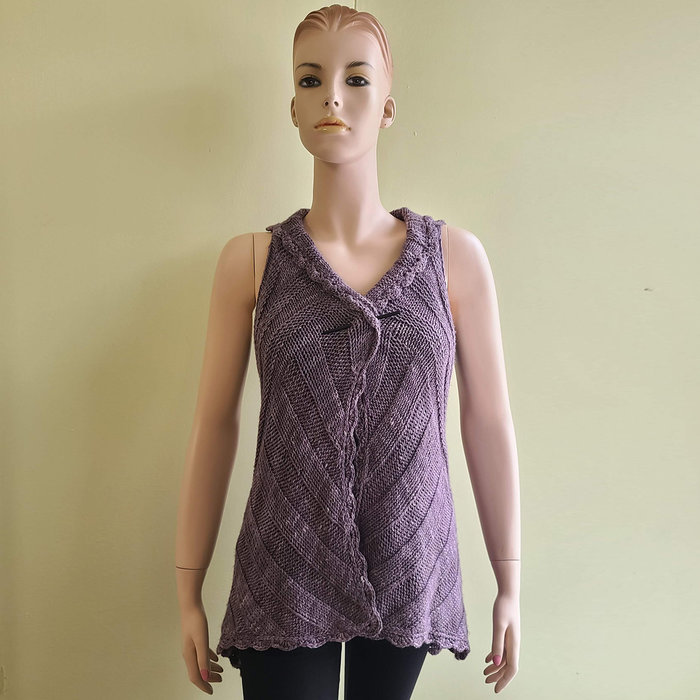 This week I got to spend some time with my camera and some shop samples I worked on over COVID shutdowns. I'll post each project as I have some time. First up: Vine Street Vest by NorthbrooKnits. I made this in the last 5 skeins of Berroco Artisan that we had in the Sargasso colourway. You can check out the Ravelry project page here. We do have 9 skeins left of #6030 - Scotia Sea, which is sort of a brown with a pale purple tint to it, it's pictured here. You need 5 skeins to make the smallest size, which will fit bust sizes ranging from 34-38. For the Medium, Large sizes (42-46, 50-54) respectively, you'll need 7 skeins to complete the pattern. If you wanted to do the scalloped crochet edge like I did here, you may need 1 additional skein. The yarn is currently 40% off, so it's a good time to grab it. You can come into the shop when we're open (10:30 AM to 3:30 PM Tue-Sat, except this Sat. when we'll be open for LYS Day 10 AM to 4:30 PM) to check it out on our model at the front of the shop.
Here, the vest is styled with a small, black, rustic wooden shawl stick hand-carved out of Ontario wood species by Nature's Wonders.
[powr-media-gallery id="f34bcbdb_1599758228"]
Be the first to comment...